Hi everyone! Hope you're all enjoying your weekend so far, sorry the lack of posts since Wednesday but aside from not having much to blog about, I've also been a little busy! Before I get into it though, I wanted to share with you my new love for the LOVE brand which I have recently discovered.
I'm probably way behind with this, but I didn't realise what lovely pieces are available to us. I wanted to share their latest Lookbook with you (above) and also a few of my favourite pieces:
Navy Pleated Waist Dress
Rust Round Neck Dress with Tie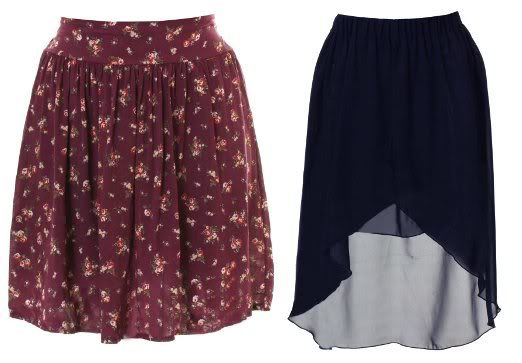 Ruby Print Skirt
Navy Drape Skirt
Wine Long Sleeve Wrap
Aubergine One Shoulder Dress
Pretty lovely eh? I can't wait to start adding bits and pieces from the brand to my Christmas wishlist! When I have some spare money I might also make a few purchases. Did I mention I've finally got a job so will be having some money coming in soon?! It's only back at the Holiday Resort that I've worked at previously but I need money and I wasn't having any luck elsewhere. Lucky for me one of the other staff wasn't working out so I was their first port of call, phew! I start on Tuesday and will be pretty much working full time.
I know after a few weeks I'll be complaining about working but now I can finally start saving money for a flat, I need to work as much as possible. The resort's Christmas season begins in October which is bound to get a bit tedious, so you can all look forward to me complaining about it!
Last night I went to the local pub with Vince and our two friends from College. We're hoping to enter a local film competition and met up to discuss possible film ideas. With us all being previous Media (Moving Image) students, we're used to filming lots of things and although I didn't really enjoy the course, I did learn a lot and seeing as there's a cash prize, I can manage to get on board. We're hoping to do some filming next weekend and when the final product is finished I'll be sure to post it and hopefully get some of your votes!
Tonight I'm off to a baby shower! I've never been to one before so I'm not sure what to expect. I'm also driving so won't be drinking either but I'm sure it will still be fun. It was pretty difficult to buy a gift though as I just have no idea when it comes to things like this. Vince and I managed to find a cute newborn gift set, a pink sleepsuit (as the baby is due in November) and a little rattle. We're hoping that will be ok? We're both struggling with money at the moment so we couldn't get what I originally wanted to get. :(
In other news, I'm upping my writing for Guide2WestonSuperMare.com with a few business reviews. Yesterday I visited a local arts and crafts shop and spoke to the owners. I was pretty impressed with how well they're doing after only six weeks and they seem to have caught a gap in the market for arts and crafts. I'm yet to get the review written up but I'm pretty sure it's going to be glowing!
On Monday I'm reviewing the local leisure centre and Vince and I are allowed to use the facilities for the day which is going to be fun. I'm then going to review a local driving school and am hoping for many more reviews to come! It works perfectly around what else I'm doing and I'm loving the extra money! I'll keep you posted when the reviews are up and you can have a little look if you're remotely interested! If any of you are thinking of visiting Weston Super Mare, take a look at the site for a few ideas!
I'm hoping to get a few product reviews up next week from VIVO and Good Things as I was very kindly sent a few bits and pieces!
I'm now off to reply to all of the comments on the last post, thanks so much guys, I absolutely LOVE reading your comments!