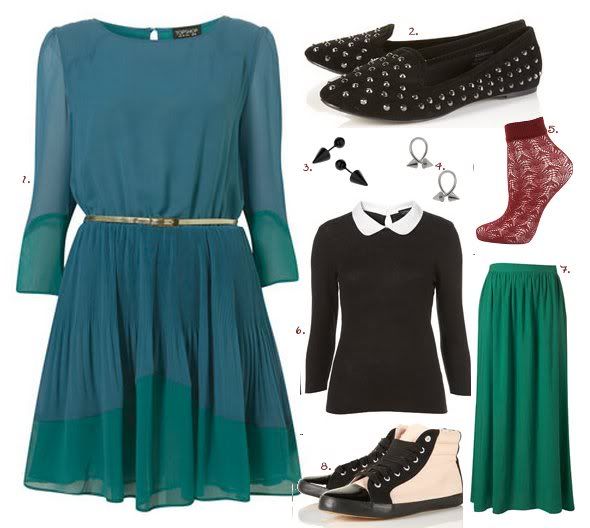 Ladies and Gentlemen (not quite sure there's many)...please welcome back the Weekly Wishlist feature! It's been a while hasn't it? For a while I stopped adding things to my wishlist because I just have no money, but I wanted to bring back this feature because I really enjoy writing it and scouting out items.
1.
I know I'm not a dress kind of girl but this is utterly gorgeous! It would be perfect for a special occasion...if I had any coming up, which I don't. Boo.
2.
I am really loving these studded slippers. I don't like the fact that they're called slippers though, as they are actually loafer style shoes. Unfortunately they're sold out at the moment!
3 & 4.
Need some new earrings in my life. These are listed as tunnels but look thin enough for my eyes. Might have to check them out in real life though.
5.
Cute, cute, cute!
6.
A bit school uniform meets referee but I love the contrasting collar. This comes in a load of different shapes and patterns but this is really simple and perfect for casual and office work.
7.
A gorgeous, gorgeous, gorgeous maxi skirt that will probably never be mine! I'm way too short for maxi skirts but a girl can dream, can't she?
8.
The other day I got a real craving for Converse style trainers and spotted these on the website. I think they're lovely, perfect for winter with some black skinny jeans, which I practically live in!
Now let's see if I can keep this up on a weekly basis again! In other news, yesterday morning I had a lovely little trip to town with my sister and niece Daisy. This was my sister's first outing alone with Daisy so hopefully I helped as well as I could and she didn't feel too nervous. Daisy was so well behaved! She slept right through us mooching around the shops and the noise from the cafe didn't bother her at all! She only started crying when she was hungry and had tummy pains and by that time we were on our way back to the car anyway. It was a lovely little morning out with tea and a cupcake as well! Delish!
Tomorrow my work experience at Your Hair magazine starts for one week. This will be my fourth placement at a magazine and I'm hoping to get a lot out of it. My previous placements haven't been too successful if I'm honest but now I know how everything runs, I'm quite used to it and think I can make the most of it. This time around it's in Bristol instead of London which means only a 15 minute train journey! The only downside is that the office is right in the middle of the town centre, where all the shops are! I will have to be on my best behaviour! Wish me luck!