Hi! Sorry for not blogging in a few days! I haven't exactly been busy, but there hasn't really been anything to blog about! I thought I'd do this little post because I find it so interesting reading other people's fragrance posts so I thought I'd do my own! Hopefully you'll be a little interested!
When it comes to perfumes, mine aren't exactly fancy. There's no Marc Jacobs Daisy or any Chanel, just some cheap and cheerful scents that I have accumulated through Christmas' and Birthdays! I really love sweet, fruity scents and I think these are all in this particular category!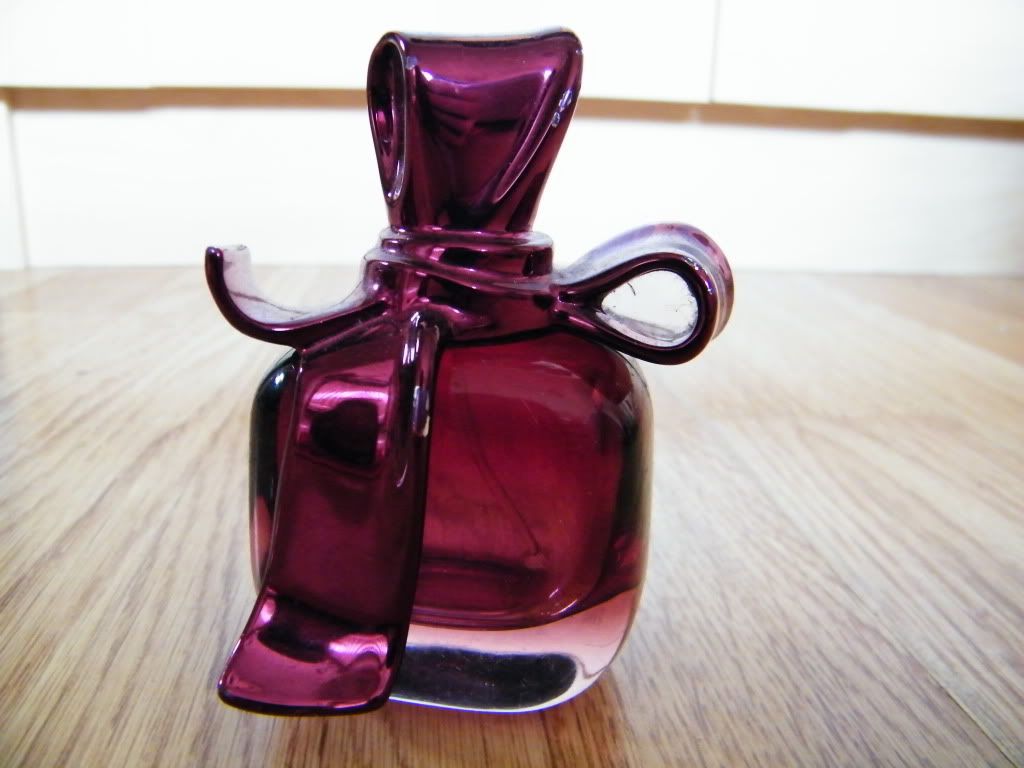 This Nina Ricci 'Ricci Ricci' perfume is by far one of my favourites! Absolutely LOVE the bottle and the scent. I'm a big fan of the other Nina Ricci perfumes as well but don't often have over £30 to splash out on them! I've managed to get through 2 bottles of this so far and it's definitely on my 'replace' list.
Glamourous and audacious, Ricci Ricci embodies a new urban heroine in the Parisian and sophisticated universe of Nina Ricci. Her power lies in her ribbon she plays with to colour and beautify the world with fantasy and poetry.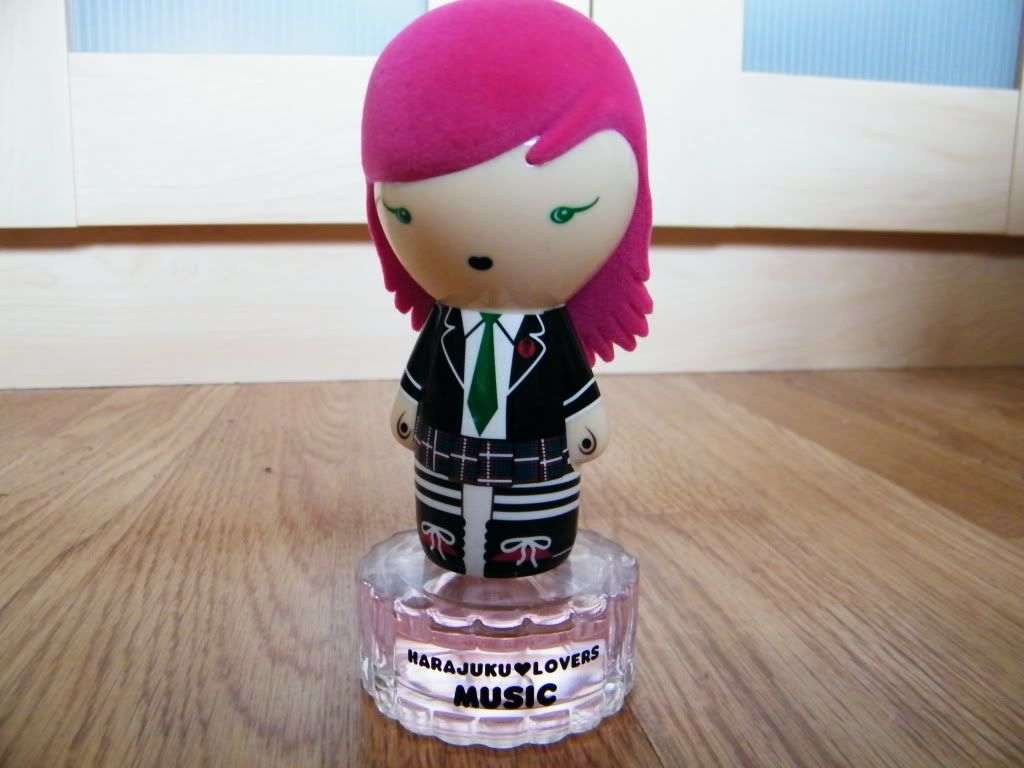 This full size Harajuku Lovers perfume was a Christmas present last year. I've seen these in store and thought they looked a bit tacky to be perfectly honest and I wouldn't have purchased it myself but when I received it from my Mum and Dad as a present, I realised it smells really great! This particular one is the 'Music' style which is very me.
A floral woody fragrance with apple notes, juicy fruit, bergamot, jasmine, gardenia, fuchsia, peony, cedar, musk and amber. Music is inspired by Japanese rock musicians and their eccentric style with bright makeup and colorful clothes.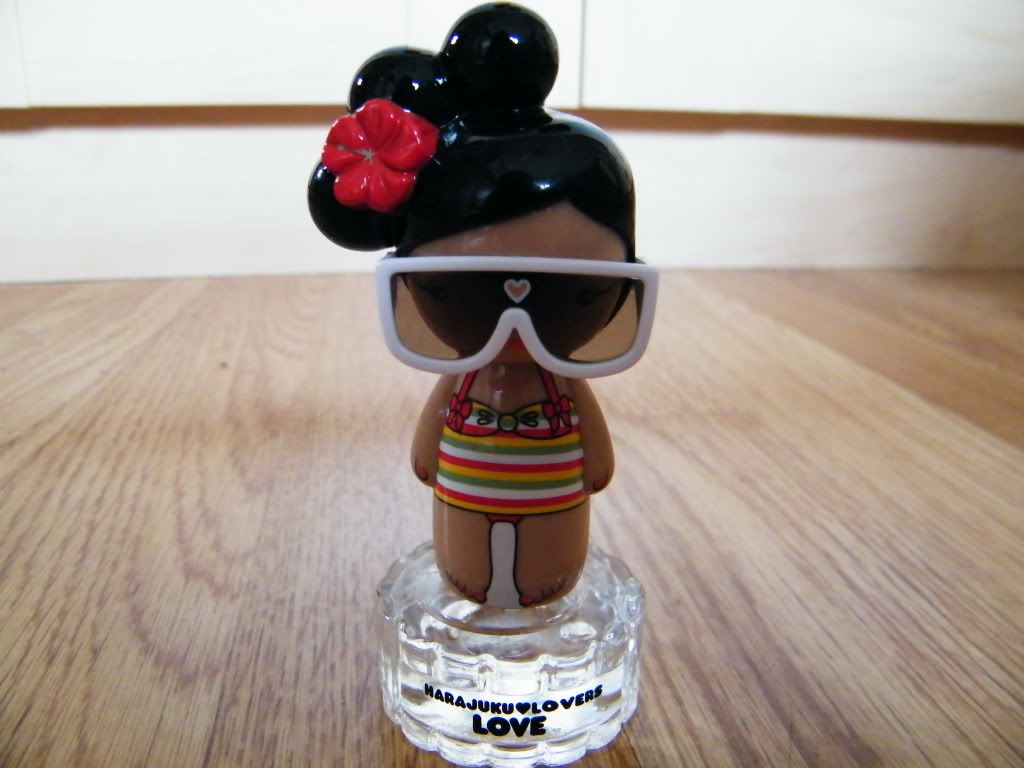 This is another Harajuku Lovers 'Sunshine Cuties' perfume that I actually picked up for only £7.99 in Boots recently! I was originally after the Marc Jacobs Daisy but it was just TOO expensive so when I saw this on the clearance shelf, I snapped it up. :)
A fruity floral Top: Nectarine, Passion Fruit, Lemon Blossom Mid: Plumeria, Osmanthus, Rose Petals Base: Vanilla Orchid, Coconut Water, Sensual Musk, Sandalwood
Normally I hate perfumes from Next. They're always so sickening and 'old granny' smelling, but the 'Charmed' perfume I received at Christmas really changed my mind! It's not actually in stock on the website so I'm guessing it's an old one therefore I can't find any descriptions for it. It's probably the least fruity and sweet of the lot, I'd say it's a little musky and strong but once on the skin it's quite nice!
'Covet' by Sarah Jessica Parker isn't usually one I would pick up either but again, it was a Christmas present from a couple of years ago. It stayed in the box for about two years because I wasn't keen on it but when I tried it again I actually quite liked it. The bottle isn't as pretty as others but I do like the lid.
I've seen online that it took other people a while to get used to this scent, as did I, but I'm glad I finally released it from it's box!
Geranium leaves, Lemon, Honeysuckle, Lavender, Lemon, Amber
There's a few scents that are on my wishlist! The first of course is the Marc Jacobs Daisy, which I have in solid form, but really want in a proper perfume! I also really love Vera Wang's fragrances Preppy Princess and the new Lovestruck! I guess with my birthday in October, I could ask for a few new perfumes!