I try to keep these types of posts to a minimum and only post when I come across a celebrity wearing an outfit that I really do love.
*Image courtesy of Celebrity.Onsugar.com
Being the Sub-Editor and one of the writers of Styleclone.com, it's part of my job to see what celebrities are wearing on the red carpet and when I come across a gem like this, I just have to post here too!
Last month, actress Saoirse Ronan (if anyone could help me pronounce her name that would be really useful!) appeared at the CineMagic festival in Dublin wearing this extremely cute Topshop Chevron Stripe Floral Playsuit.
I absolutely love the contrasting patterns on this playsuit as well as the front buttoning and shirt like top complete with stiff collar. I particularly love the playsuit as the bottom half isn't too fitting, this is something I'd definitely consider for myself!
Saoirse wore the playsuit with a baby-blue waterfall jacket and Miu Miu brogues. The colour palette of the entire outfit is so feminine and girly which looks brilliant on Saoirse's fair tones and blonde hair.
Of course, this outfit is particularly easy to imitate but unfortunately I (like many others) won't ever be able to own Miu Miu brogues, lucky girl!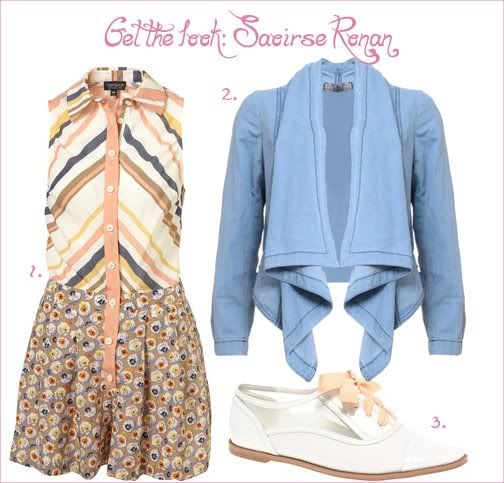 1. Topshop Chevron Stripe Floral Playsuit
2. ASOS Magic Mesh Ribbon Brogues
3. Own The Runway Blue Draped Denim Waterfall Jacket