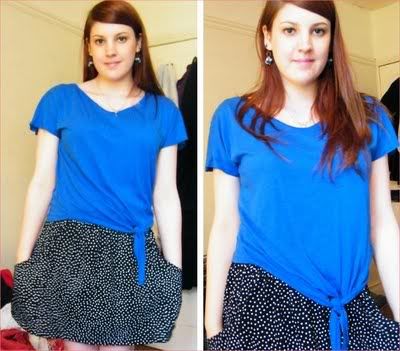 Although I have my camera set to a good quality close up shot, it still can't cope with these sorts of pictures and they come out slightly blurry, which is really annoying. These were the best two I could pick out.
I quickly put together this outfit while playing around with my clothes. I wouldn't for one second consider myself as fashionable but I think this outfit works. It's not too dressed up for me and is the first time I've even worn this skirt since buying it! I already have a t-shirt in this exact shade of blue but I spotted this one in the New Look sale for £3 and it has this cute knot at the bottom too. :)
Anyway, the whole point of this post was to let you all know that my blog has now become a .com! After lots of Twitter advice, I decided to sign up to Blogspot's custom domain which is just over £7 for the year of hosting, which I think is extremely reasonable. It was really easy to do as well. I'm messed about with domains and hosting when I set up AmpedReviews.net, and I wouldn't be able to remember for the life of me, how I did it back then so I was glad at how easy this was!
I feel like it makes the blog look a bit more professional when you give the URL out and it's another way that my blog has developed!
I also have a fancy new email address -
cherry@cherrypieblog.com