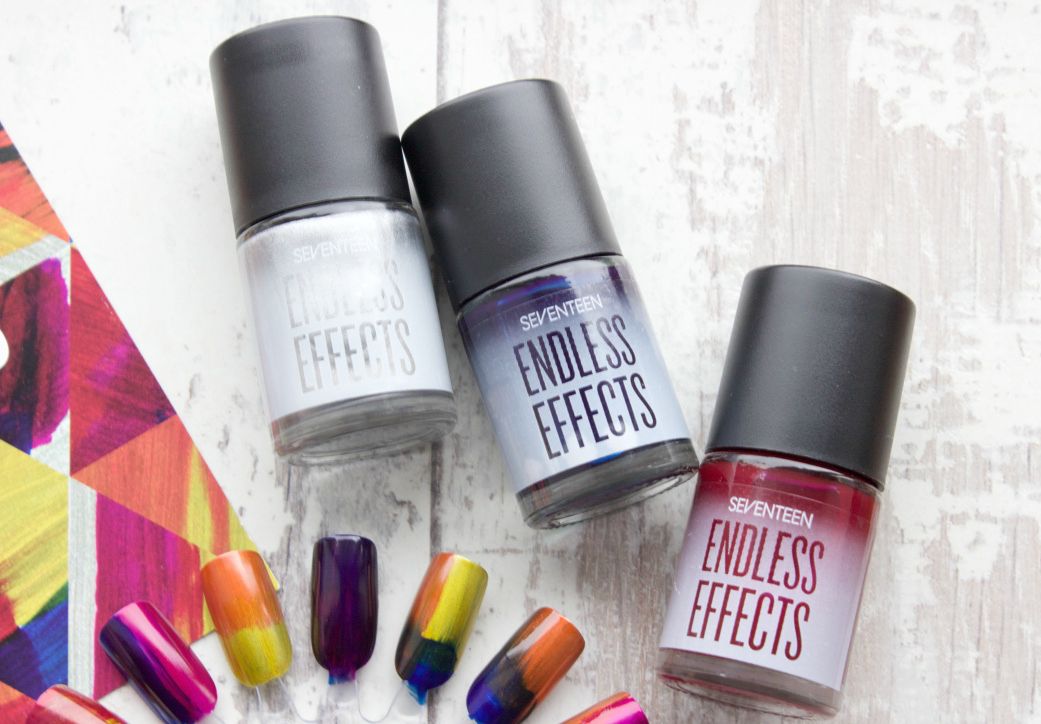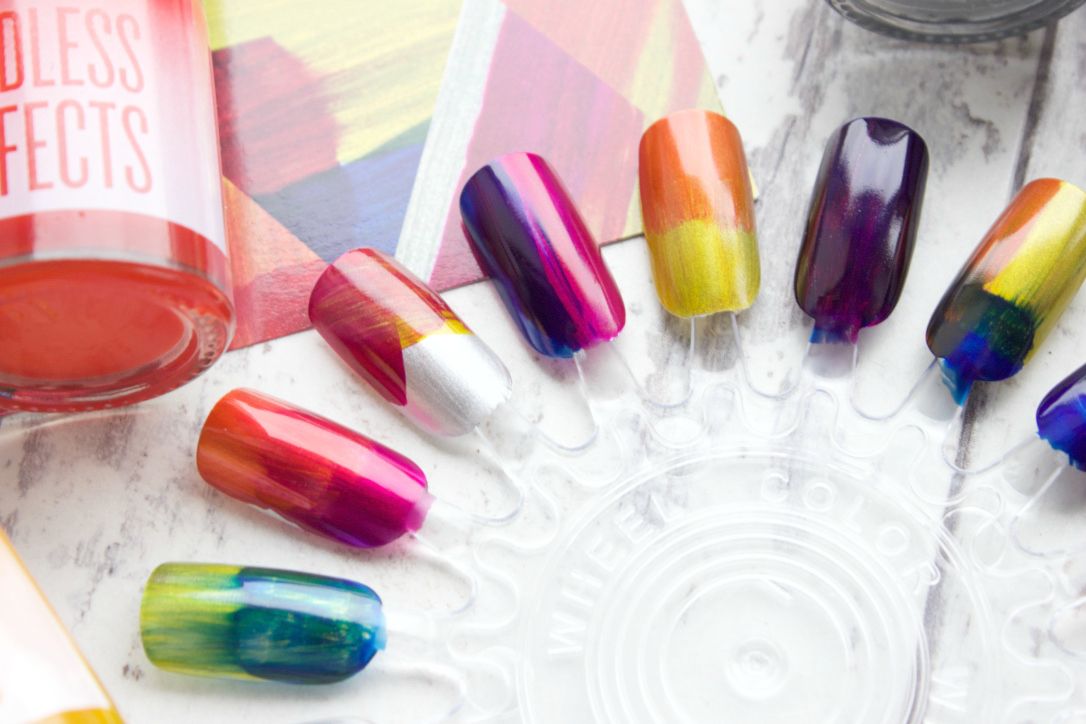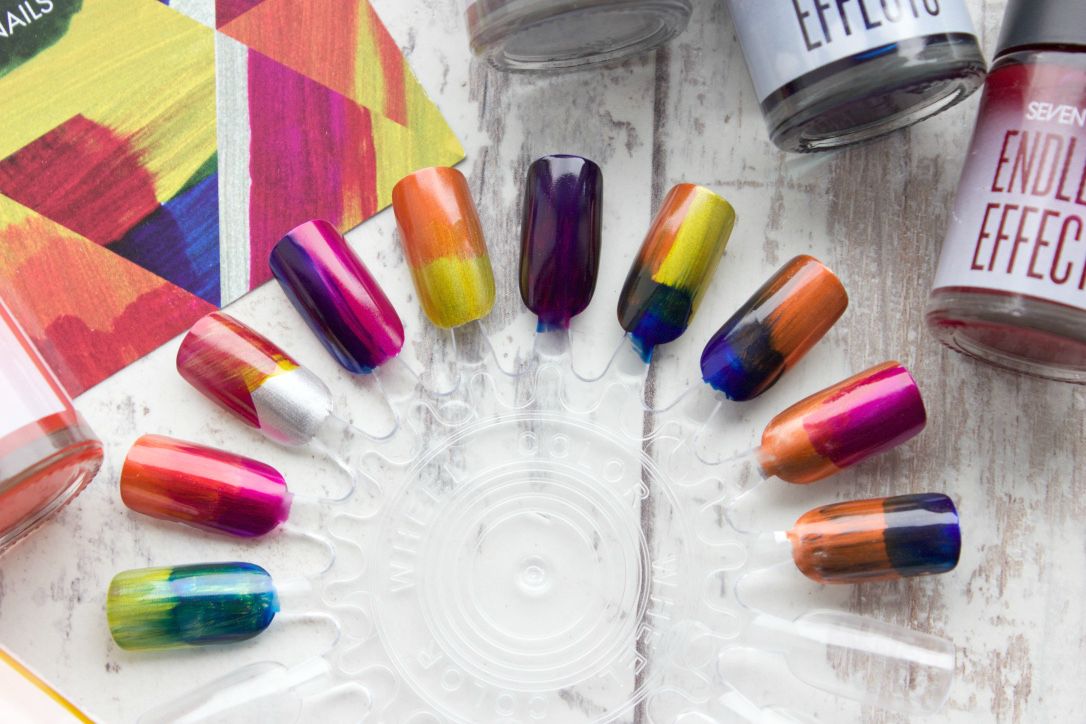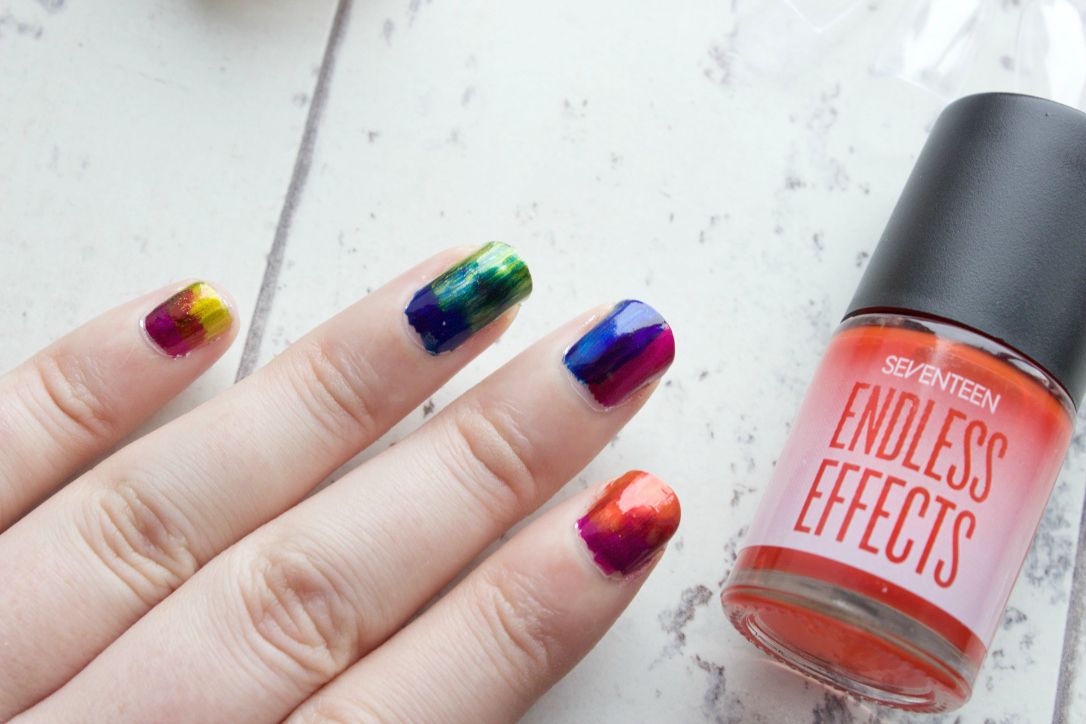 I thought effects polishes had died a death quite a while ago...they were a good gimmick while it lasted, however I was recently browsing the cosmetics stands in Boots as you do and came across a Limited Edition Endless Effects Nail Kit of all things. There were two to choose from, a small version containing three polishes and a larger version containing five polishes. I was feelin' kind of flush so went for the bigger kit at £8.99, which is still a bargain for five nail polishes, nevermind the fact these ones are extra fancy!
Not only do you get five polishes in the kit but you also get a nail wheel to practise on and a handy little guide. So here goes...you simply paint your nails with the silver base coat and wait for them to dry. You can then take any colour from the yellow, orange, blue or pink and swipe it over the nail however you wish, followed by as many other colours as you like to create a pattern. The colours polishes are translucent, which allow you to create some great patterns.
You do have to be quick and blend the colours together while they're still wet. The guide recommends having all your polishes with the lids off ready.
My favourite colour combinations were definitely the yellow and orange together or the pink and orange. I wouldn't really recommend the blue and yellow together as the yellow shade does pick up a bit of a blue tinge.
The different effects you can create are endless (funnily enough!) and I loved that the kit came with a nail wheel for practising on. Obviously they look fab on the nail wheel but I found it a little harder when it came to my own nails as mine are short and stubby instead of long and elegant. I think I did an OK job, I guess practice makes perfect and you'll soon discover which colours work well together and come across different patterns. With these polishes it really doesn't matter if you're messy and that's what I love about them, especially when I have to use my left hand to paint my nails on my right hand!
This is such a good idea and such good fun as well. It's been a while since I actually enjoyed painting my nails. Usually it's a bit of a chore!
For £8.99 or £5.99 for the smaller version, these make a brilliant Christmas gift or stocking filler for any nail polish fans. As well as getting all artistic and creating lots of different patterns, you could keep things simple by wearing the silver base coat (a lovely festive shade) on its own or any of the other colours individually too. They dry really quickly and last ages too!
Have you tried the Seventeen Cosmetics Endless Effects Nail Kit yet? Let me know your thoughts in the comments.