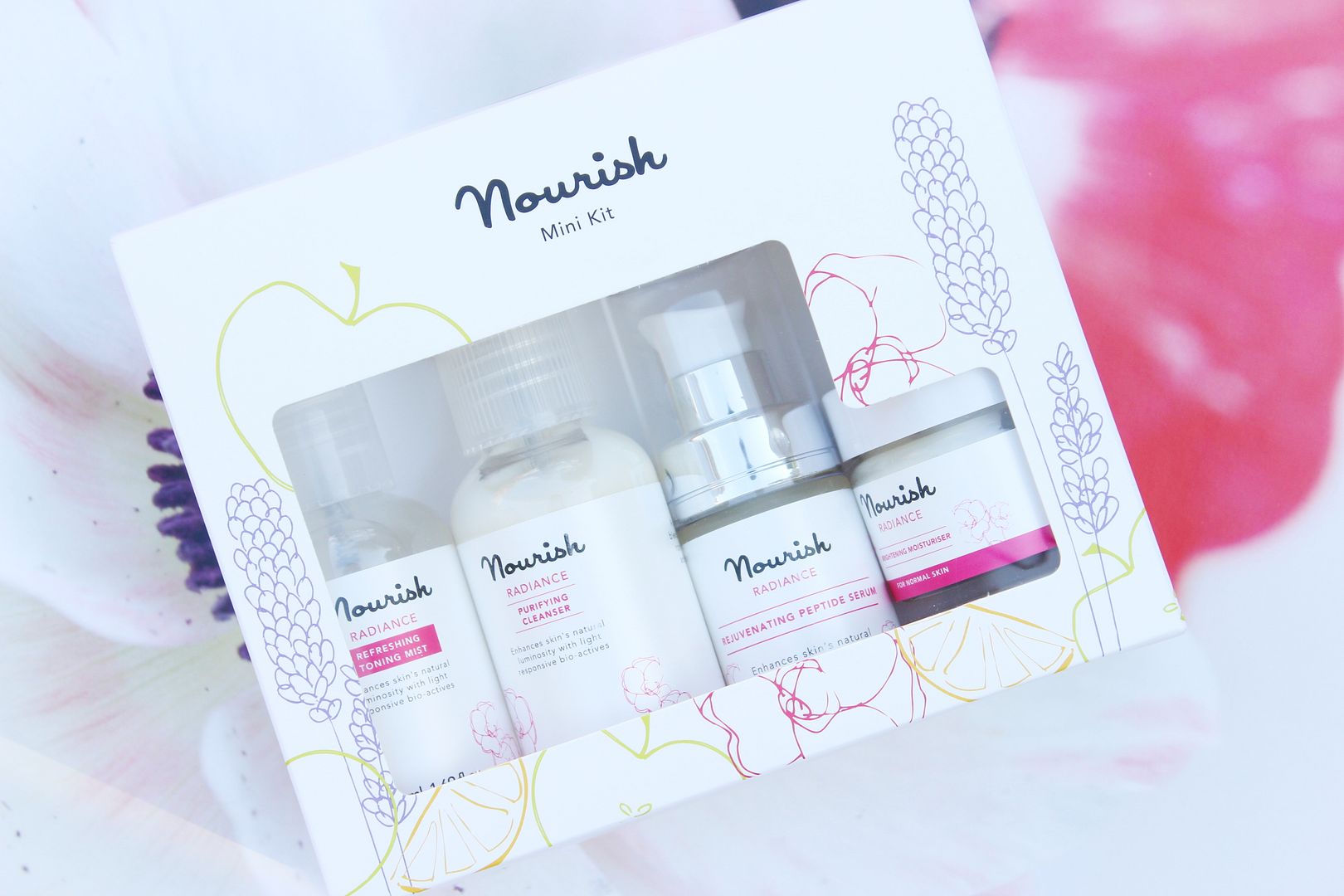 Nourish Skincare Radiance Mini Kit - £27*
Today we're talking skincare… radiance inducing skincare to be exact as recently I was sent the
Radiance Mini Kit
from Nourish Skincare and I couldn't wait to try it out.
I have a regular morning skincare routine already but my skin has been feeling/looking a bit dull recently. It's not as if it isn't clean/clear but I've been feeling as if it could do with a little brightening up so the mini kit quickly took up residence on my bathroom shelf…
Radiance Purifying Cleanser
What I look for in skincare and in cleansers in particular is for them to be kind to the skin. This one really is gentle on the skin and just grabs all the grime and clears it away.
Radiances Refreshing Toning Mist
This has been a bit of a saviour in the recent warm weather. As well as a toner it's also a lovely and hydrating facial mist, which refreshes the skin wonderfully.
Radiance Brightening Moisturiser
This moisturiser is particularly thick, almost balm-like. Not something I'm used to with a moisturiser if I'm honest, but I've found it really lovely to use and it's been keeping my skin feeling lovely and plump.
Radiance Rejuvenating Peptide Serum
I've been meaning to introduce a serum to my skincare routine for a while now and this one has slotted in really well. It's really delicate on the skin and primes it really well for any make-up I might be putting on. It leaves my skin feeling uplifted and just generally in a good condition.
Using all of the products together has really improved my skin recently. It's feeling much softer, smoother and radiant.
After doing a bit of research I discovered that the majority of the products in the kit include foxberry, which can be known by a few other names, but most importantly it can help pigmentation, so this is a great little kit for those worried about pigment problems.
All in all this is a really cute little kit, which would be great as an introduction to the brand for teens or skincare in general for someone of any age who isn't familiar with it. There's just one teeny tiny thing that irked me about the kit and that is the press down pumps, which are really tough to press down without it making a right old mess. This is only a test/starter kit so I'm sure this wouldn't be a problem with the full size versions.
Have you tried anything from Nourish Skincare before? Let me know your thoughts in the comments.
This post contains PR samples