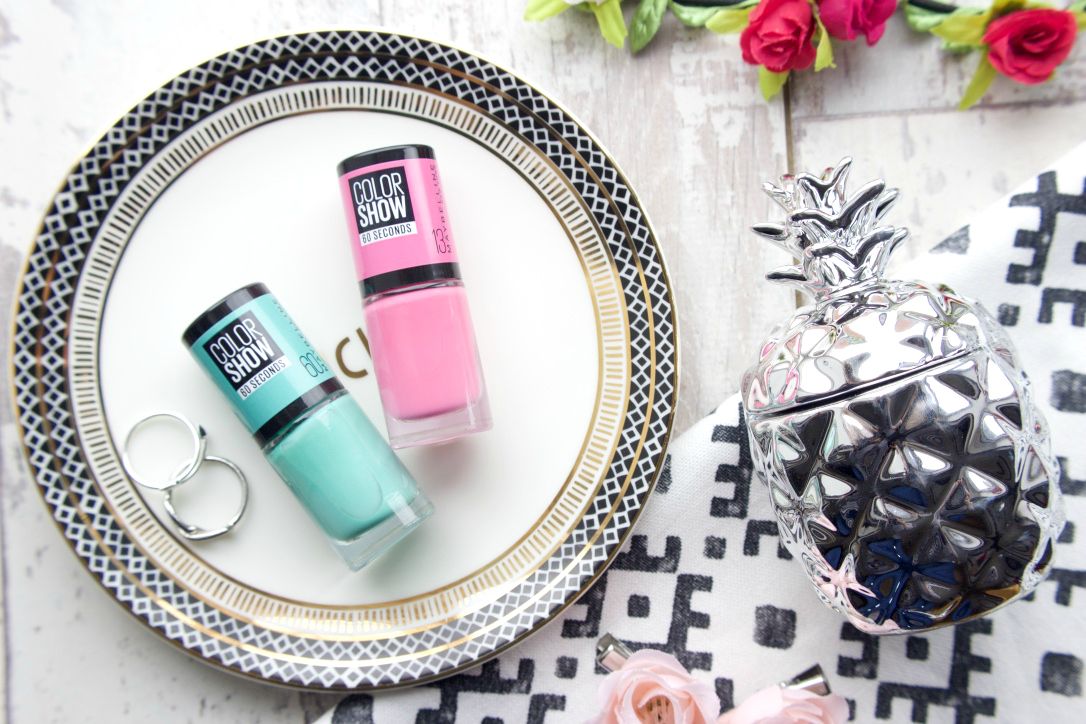 Back in April I featured
Maybelline's Color Show Blushed Nudes polishes
and they were a huge hit with me (and you!) so this time while browsing the Maybelline stands in Boots, I decided to go for some bright, fun and funky polishes to create a bit of a 'colour pop' look on my nails. Perfect for summer, even if the sun doesn't come out!
I feel like pink and mint nail polishes always work well together so I picked up two of the Color Show 60 seconds polishes in Roof Terrace (mint green) and NY Princess (pink) and well, I hate to say I told you so but these work brilliantly together. I think the label colours are really true to how they actually come out once on the nail, they're super bright and fun and have a lovely, shiney finish to them.
The application was good, I would have liked more fanned out brushes, but I say that for all polishes without a fanned brush, and I only needed two layers or each polish to get a good coverage. They did dry super quickly. Unfortunately I didn't actually time them (I know I should have) but they were really fast drying, so no annoying hanging around waiting for your nails to dry before you can do anything. I was going about my usual business within a matter of minutes...one minute in fact.
I think these are absolutely perfect for brightening up your mood as well as your nails. I pretty much have a different polish on my nails every week and the thing I enjoy most about nail polish is when you're typing at a computer (I work on a computer all day) and you can see your coloured nails bouncing off the keys, giving you a little flash of colour every now. These are the perfect pick-me-up colours and a great little colour pop for your day.
Have you tried the Maybelline Color Show polishes? What nail polish colours brighten up your day? Let me know in the comments.