I've never heard of the brand Sinful Colors before. I have of course heard of Kylie Jenner, although I can't say I'm a fan as such. I've been watching the whole lip kit debacle from afar but I'm not a fan of lip products so I wasn't really interested in trying these myself, however nail polish is definitely my bag so thought I'd see how I got on.
I spotted a display of the Trend Matters Collection from Sinful Colors in among all the sickly sweet Youtuber products in Superdrug so decided to pick up two shades. I went for Haute Koffee, a dark coffee/purple shade with a hint of shimmer and the bold pink Miss Klaws. I thought these in particular looked quite pretty and would work well together as well as individually and I was not wrong.
I wasn't a huge fan of the brush on these polishes. These days I expect most brushes to be quite wide/fanned as we all know this makes applying the nail polish so much easier, but brush problems aside, the polish did apply really nicely and dried super speedily. I was interested to see that these dried matte but then I realised the name of the range Trend
Matte
rs and had a little chuckle to myself at old clever cloggs Kylie's little play on words.
The colours themselves are really pretty and I only needed two layers of polish for each nail so they weren't too thin and not too thick either.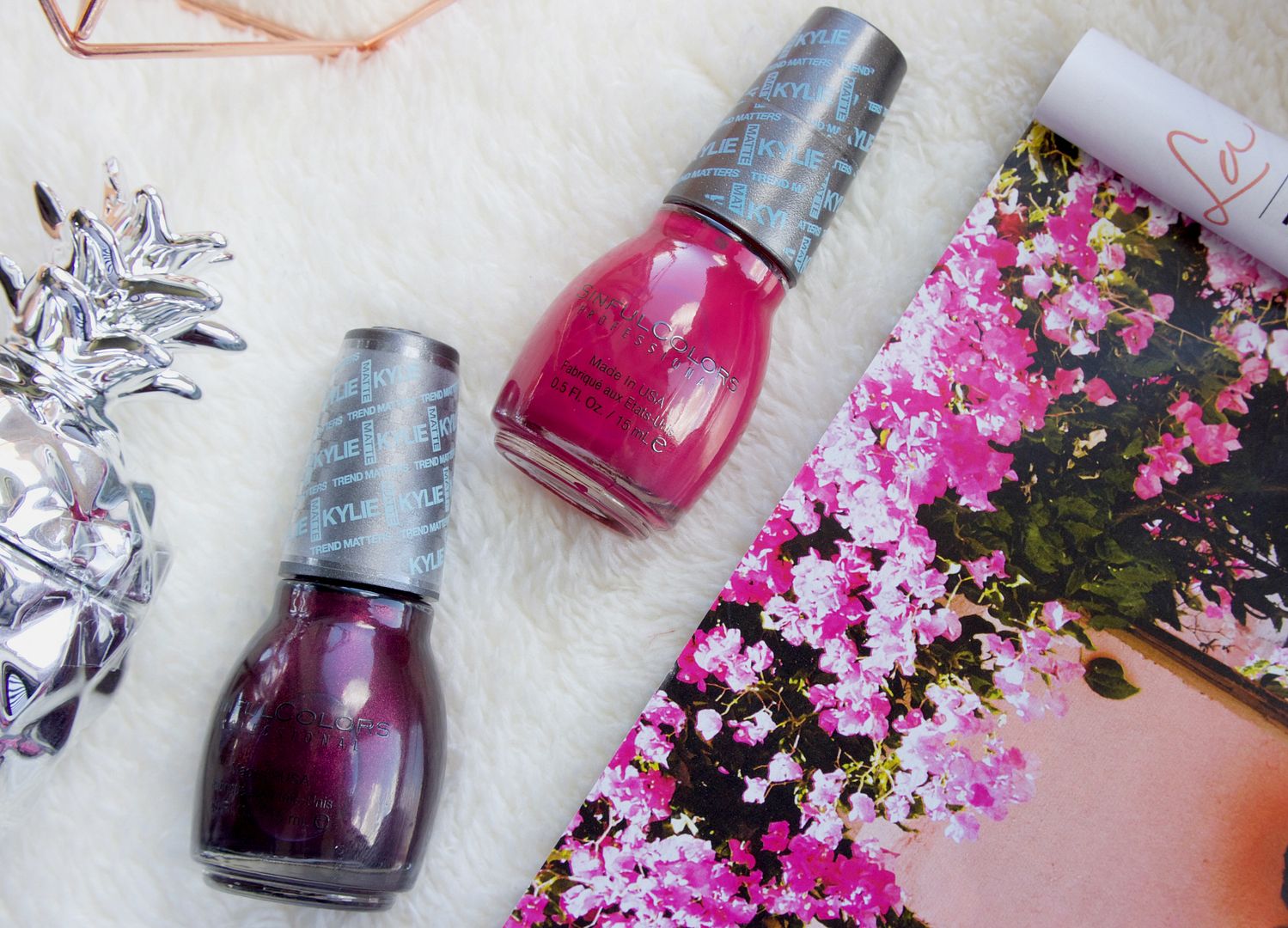 At £3 each these are on the cheaper side of most high street nail polishes but they lasted a good four days before there was any really bad chipping. On the fourth day I did start the day with very minimal chipping but then I went swimming and this seemed to strip the polish a lot. I didn't use a top coat so this might of helped but I'm more than happy with it lasting four days, I would say that's just as good as any other high street brand.
They are really reasonable and a nice cheaper alternative to some other high street polishes. I just wish the brushes were a little wider!
Have you tried the Kylie Jenner for Sinful Colors Trend Matters collection? Let me know in the comments.
Before you go - voting in the Bloggers Blog Awards is now open and it would be great if you could vote for me for Best Beauty Blog! You can
VOTE HERE