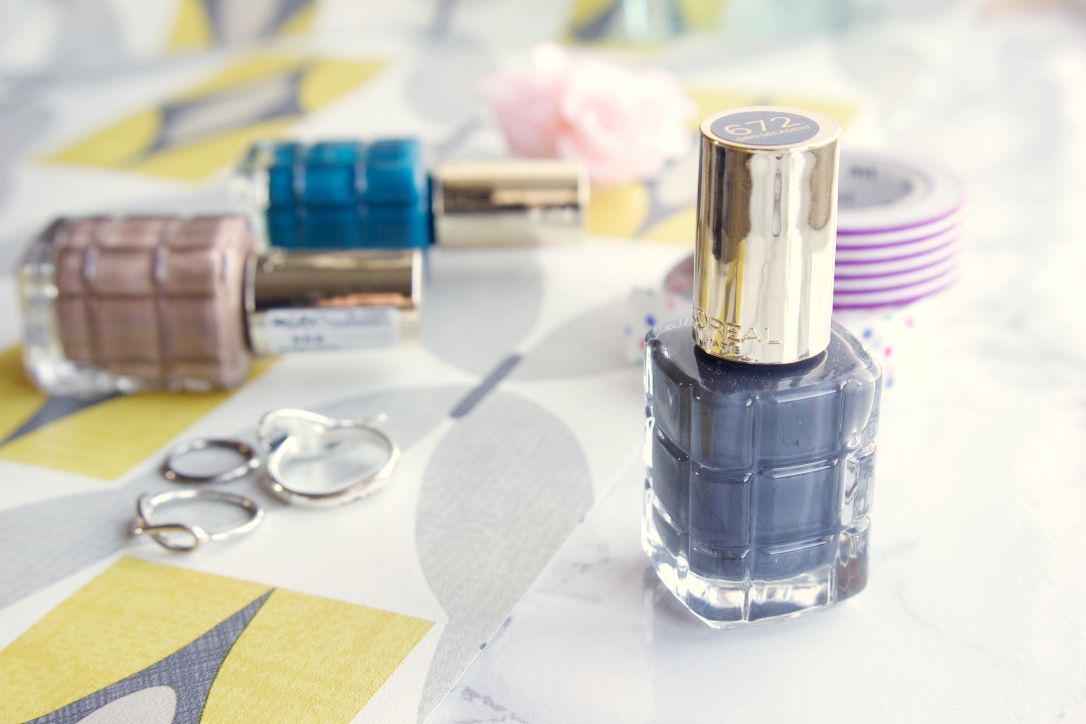 After a brief break I'm back with some polishes that I've been meaning to feature on the blog for quite a while - the new L'Oreal L'Huile polishes in their new quilted effect bottles. The range includes 22 shades in total but of course I wouldn't be able to purchase them all, however much I want to, so instead I opted for three shades, Cobalt Indecent, Moka Chic and Gris Decadent. I think I must have been in a bad/gloomy mood while shopping as the shades I picked up are all quite dark but still extremely wearable. I have spied the different pink shades available too, which are extremely pretty and perfect for spring.
Cobalt Indecent is a gorgeous almost navy blue, Moka Chic is pretty much what you'd expect, a chocolatey/mocha beige and Gris Decadent is a moody grey!
I bought these three shades on 3 for 2 in Boots. They're £4.99 each, which is a pretty standard price for some of the higher end Boots/Superdrug polishes and I don't mind paying a little bit more when a polish turns out to be as fab as this. Starting from the outside the pretty quilted effect bottle is a new look for L'Oreal and a welcome change. It really gives the polish a bit more of a luxury feel.
I know we shouldn't judge a book by its cover or a nail polish by its bottle in this case but it's so pretty! But onto the important stuff...the polish itself is packed full of precious oils, which L'Oreal have apparently been researching for 10 years and they blend beautifully with intense colour pigmentation, meaning the polishes apply like a dream, dry in no time at all and have a super shiny finish and now I'm not sure if this is just me, but I've found there to be quite a pleasant, almost fizzy scent to the polish once it's dried too.
The brushes on these polishes are lovely too, as they're so wide they apply the polish quite liberally over the nail. You can cover the entire nail in one swoop! I found two coats does the trick and you can go for a top coat if you fancy it but they dry pretty shiny as they are. I found they lasted a good 3 - 4 days before slight chipping began to occur. You could limit this with the top coat I expect but 3 - 4 days wear isn't too bad, it's pretty standard and better than a lot of other polishes.
Personally I'm a big fan of the new look, L'Oreal oil nail polishes and my favourite shade of the three I picked has got to be Cobalt Indecent. I'm definitely going to be picking up a few more shades for my collection, perhaps you'll see them on the blog in the future!