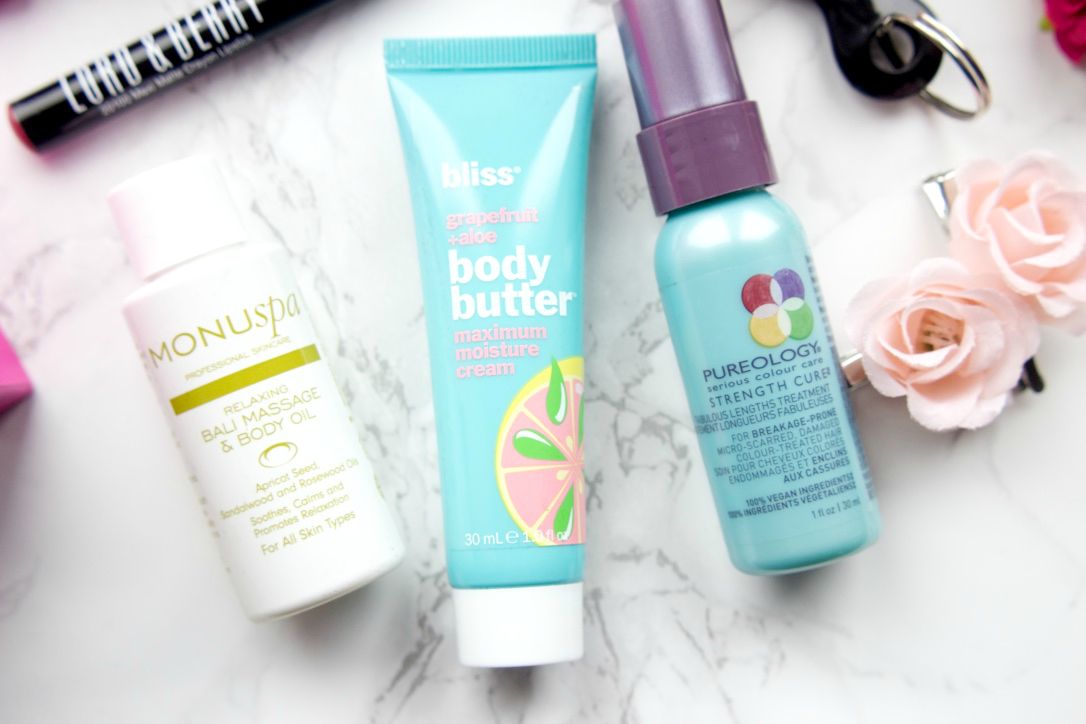 This is the last box of my three month subscription. I have actually cancelled my boxes now just because Vince is out of work at the moment so spending money on luxuries like this isn't the best thing to be doing at the moment, but I'm hoping once he's working again I can re-subscribe as I've been really enjoying all the boxes I've received so far. You can read my thoughts on the January box
here
and the December box
here
.
This month's box is the #LFLoves edition so has a bit of a Valentine's Day theme, which I guess is quite a common and easy theme to go for at this time of year but none the less, it's still a great little box. Inside you will find a mini Monuspa Bali Massage and Body Oil that can be used on a daily basis to leave your skin super soft or it can be massaged into your muscles and even poured into a bubble bath. I love having baths with nice products in and an oil like this is perfect to just soak away in so I'm really looking forward to using this.
Keeping on the soft skin theme, there's also a Bliss Pink Grapefruit and Aloe Body Butter that's perfect for using after your morning shower thanks to the zingy grapefruit tones.
Also in the box is a Pureology colour care spray for dyed hair, which is not something I have much use for unfortunately but I do have a sister with bright red hair who might be interested in giving this a try!
There's also a Hi Impact Brows palette, which can be used on eyes as well, which I'm really glad about because I literally don't do anything to my eyebrows except have them waxed every 4 to 6 weeks. I just don't understand the whole filling in/drawing on eyebrows so I'm totally disinterested in eyebrow products, luckily this can be used as eyeshadow too as I'm a regular brown eyeshadow wearer so this is perfect to add to my collection!
Another thing that I never bother about is lipstick or lip products aside from lip balms so I'm not sure if I'll have much use for the Lord & Berry matte lipstick pencil. It is an absolutely lovely shade though, perfect for Valentine's Day, so I might just give it a little go!
Lastly and probably my favourite product is a mini keyring Denman hairbrush. This is fab and I am putting it on my keys straight away!
Overall I am happy with the box but as I mentioned I'm not a huge lip or eyebrow product fan or user so I'm not sure these items will get much use. I also don't have coloured hair but you can't forget that the point of beauty boxes is to discover new brands and products so you can't always absolutely love everything. I'm sure I'll find a good home for the items I'm not keen on! I'm really sad about potentially missing the March box but I'm hoping to sign back up in April time!
Have you got the Look Fantastic #LFLove beauty box for February? Let me know what you think in the comments!